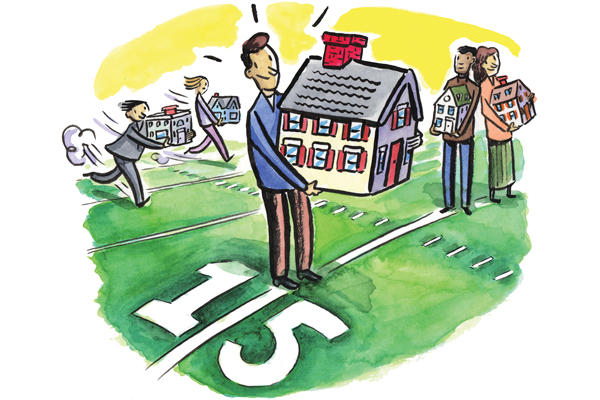 What is a 15-year fixed mortgage?
A 15-year fixed-rate mortgage is a home loan with a repayment term of 15 years. It offers borrowers the same (fixed) interest rate and monthly payments throughout the life of the loan.
The long-term advantage of a 15-year fixed-rate mortgage is that it's cheaper than other mortgage options. However, monthly payments are higher.
There are two reasons borrowers can save money with these shorter home loans:
Interest rates are generally lower on 15-year mortgages compared with 30-year loans;
And borrowers pay off the loan faster, so less interest overall is paid.
"Borrowers will generally secure a lower interest rate on a 15-year mortgage than a 30-year mortgage. Because they are paying down the loan more quickly and have a lower rate, these borrowers will pay significantly less interest over the life of the loan," says Rick Bechtel, executive vice president of U.S. residential lending for TD Bank. "This long-term savings make a 15-year loan an attractive option for borrowers who can manage a higher monthly payment."
The table below brings together a comprehensive national survey of mortgage lenders to help you know what are the most competitive 15 year mortgage interest rates. This interest rate table is updated daily to give you the most current rates when choosing a 15 year mortgage home loan.
| Product | Interest Rate | APR |
| --- | --- | --- |
| 30-Year Fixed Rate | 3.730% | 3.890% |
| 20-Year Fixed Rate | 3.700% | 3.840% |
| 15-Year Fixed Rate | 3.230% | 3.390% |
| 10/1 ARM Rate | 3.770% | 3.920% |
| 7/1 ARM Rate | 3.600% | 3.880% |
| 5/1 ARM Rate | 3.490% | 3.930% |
| 30-Year VA Rate | 3.460% | 3.600% |
| 30-Year FHA Rate | 3.300% | 3.800% |
| 30-Year Fixed Jumbo Rate | 3.860% | 3.900% |
| 15-Year Fixed Jumbo Rate | 3.380% | 3.410% |
| 7/1 ARM Jumbo Rate | 3.530% | 3.840% |
| 5/1 ARM Jumbo Rate | 3.390% | 3.800% |