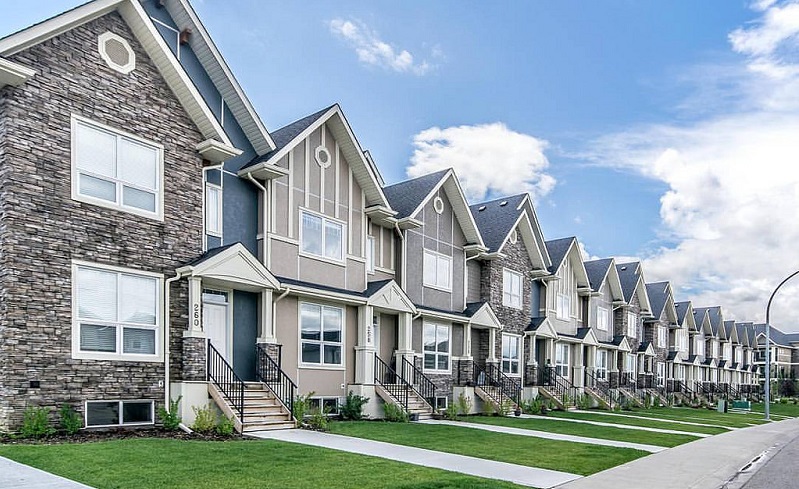 The Pros and Cons of Moving to an HOA Community
Thinking about moving to a home with a homeowners association? You should consider all the pros and cons of HOA living first. Keep in mind that the quality of an HOA varies depending on the organization. For instance, while many homeowners associations provide well-maintained communities for their residents, others may be poorly managed and overrun with problems. It's important to research and assess the quality of a community's HOA before purchasing or renting a home in the neighborhood. To help you decide whether or not an HOA is for you, take a look at the pros and cons of HOA living below.
What is an HOA?
A homeowners association is an organization that oversees a group of homes by setting and enforcing rules, as well as maintaining the grounds. HOAs are most common in planned communities and apartment buildings. Those who purchase a home in an HOA community must pay certain fees and dues to live in the community. Oftentimes, potential homeowners must also meet with the HOA to review community rules before renting or buying in the neighborhood. HOA fees can range anywhere from $20 to upwards of $1,000 or more.
What are the pros?
You don't have to mow the lawn (or maintain a yard!) – Say goodbye to tedious yard work and hello to convenience. Living in an HOA community means never having to mow a lawn or plant a tree ever again. HOAs will typically maintain the area's landscape and hardscape. Many HOA communities do let owners personalize certains parts of their yard, such as a backyard or patio. However, they will usually cover general maintenance, pest control and tree pruning. For many, this low maintenance lifestyle is one of the biggest (if not the biggest!) pro to living in a neighborhood with an HOA.
Your utilities are automatically included in the monthly fee – Much like renting, living in an HOA community simplifies your monthly bills. Oftentimes, HOAs will roll all of a resident's utilities into one monthly fee. For many, consolidating all of their utilities into one bill makes life easier overall. Basic utilities typically covered in HOA fees include sewer, water, trash, recycling, and gas. It's also common to see structural insurance fees, general maintenance needs and reserve funds rolled into a monthly HOA payment.
You have access to numerous amenities – Love to play golf? How about tennis? If you live in an HOA community, you may have easy access to these recreational amenities. Many HOA communities include swimming pools, golf courses, tennis courts, club houses, restaurants, parks, gyms and other shared features. The best part? You don't have to clean or maintain any of these amenities. Your HOA will do it for you using money drawn from your monthly fees.
You won't have to confront annoying neighbors – From barking dogs and loud parties to illegal parking and smelly trash, inconsiderate neighbors often come with a long list of annoying habits. Thankfully, you won't have to awkwardly confront your nextdoor neighbor if you live in an HOA community. Resolving neighborhood disputes is one of the biggest advantages an HOA has to offer. If you have an issue with a neighbor, you can address it with the HOA. The association should be able to enforce all HOA rules and regulations directly with any neighborhood offenders.
You may have more social activities – Oftentimes, streets with an HOA have a greater sense of community than your run-of-the-mill neighborhood. This is because sharing an HOA fosters a sense of community. Not only do neighbors get to know one another through HOA meetings, but they also have more opportunities for social events. For instance, many HOA communities host neighborhood block parties and social gatherings with money pooled from their HOA fees. It's also easier to meet neighbors when sharing amenities, such as a swimming pool, tennis courts or a golf course.
What are the cons?
Your HOA fees could be expensive – Unfortunately, many HOA communities cost an arm and a leg join. In general, high HOA fees typically mean more landscaping, general maintenance and amenities. However, if you're not someone who cares about having a swimming pool or gym, then these high fees could be a waste of your money. If a home comes with high HOA fees, make sure to ask for a list of everything included in the price, so you know exactly what you're paying for. In addition, take a careful look at your monthly budget and make sure you can afford to pay for the monthly dues. Failure to do so could lead to foreclosure on your home.
You won't be able to personalize the home's exterior – Chances are good that if you're joining an HOA community, you won't be able to personalize the home's exterior. This means no painting or remodeling of the outside of the house will be allowed. Your HOA rules may also restrict what kind of furniture or plants you can place in your outside space. If you're someone who likes to personalize and design the outside of a home, then living in an HOA community probably isn't for you.
Your community could be poorly management – Unfortunately, not all HOAs are created equal. While many HOA communities are well maintained, there are always a few bad apples. Several characteristics of a poorly managed HOA include failing to provide regular lawncare or landscaping, failing to enforce parking rules, allowing public access to amenities, and failing to fix broken walkways or stairs. Before purchasing a home in an HOA community, we recommend asking residents for their opinions on the management. It's also a good idea to ask about HOA reserves in case of an emergency. For instance, if a hurricane blows your roof off, your HOA should have money in reserves to fix at least part of the problem. Failing to have reserves could be a sign of poor management.
You'll have less privacy – Needless to say, if you're living in an HOA community where homes are practically touching each other, such as a townhome or apartment, you won't have much privacy. If this is important to you, then we recommend looking at homes without an HOA. Of course, the upside to living close to your neighbors is that you're bound to meet more people this way.
You'll have to follow rules – Want to stay in the pool past 10 p.m.? How about throwing a party? Unfortunately, an HOA probably has rules for that and everything else when it comes to living in the neighborhood. Other common rules you'll have to follow may include: not altering the home's exterior, not making loud noises, not hanging towels on the outside of the home and not parking in restricted areas. In addition, many HOA communities have rules about the number of pets and the weight of the pets that a resident can have lived with them. So before signing up to live in an HOA community, check the rules first.
Should I live in an HOA community?
The bottomline: HOAs aren't for everyone. If you're someone who wants total privacy or the ability to alter your home's appearance, you probably won't be happy living in an HOA community. However, if you're seeking a low-maintenance lifestyle, then HOA living may be perfect for your needs. Whatever you decide, be sure to weigh these pros and cons of HOA life carefully.